Welcome to our website!
Latest updates
23rd December 2020:- ongoing correspondence regarding North Wales bus operators, also Waterlow family history; updates to articles etc to follow in New Year!
28th July 2020: around 8 of our Manchester Architecture images previously with scaffolding have been replaced by current versions as now restored, and a further 15 new items added, mainly in South Manchester
23rd July 2020: minor updates to our Mason (p32) & Waterlow (p62-67) family stories, and Strode's School article (list of new contacts at end)
9th May 2020:- I recently had a contact e-mail from Fred Mason in Canada regarding Mason family, but the return E-mail address given appears not to work - please could he contact us again?
24th March 2020: much additional information gratefully received from Sue Crilly, a descendant, re the life of William Mason (our ref M563) is added to our Mason family database and story pages 31-32
7th November 2019:- An account of the history of Strode''s School, Egham, Surrey, together with recollections of our years there 1959-66 is added to our Staines page. This project was enhanced by renewed contact with several school contemporaries and hopefully any others reading this will also be encouraged to contact us with their own memories!
11th December 2018 - more information about my grandfather William Charles Jaggers and his father William are added to our family history Jaggers story pages 32, 37-38 & 41-42 (changes & additions shown in red) & the database
11th November 2018 - some new images added to our Greater Manchester Architecture pages, with an updated index spreadsheet. Also, on the Penrhyn Castle Railway Museum page, some stories about Iorwerth Jones circa 1970 are added, as related by Ian Jones.....
16th December 2017 - Our Mason family story & database is updated, with many thanks to James Butler (a descendant) in Australia, who has provided much new info and two significant corrections. Most of our outstanding uncertainties are now resolved
15th December 2017 - Two new databases are added to our Greater Manchester lead page, listing Railway Sites and Tram Depots.
27th September 2017:- three of our articles have been further updated, with new information - Manchester Architecture Index, Staines in the 1950s recollections, Jaggers family history & its associated database.
February 2017:- We have at last renewed contact with Ian Jones! Also with schoolfriend Geoff Bluestone after some 50 years. With the unfortunate demise of the "Friends Reunited" website, we will try to compile some reminiscences of Strodes School days, 1959-66, to add to our Staines page.
23rd September 2016: the final large batch of some 450 new items has been added to our Manchester area Architecture pages, together with the latest version of the index to these. This essentially completes this project, with just an odd few items and index information added from time to time in the future, as they are found
A new article on our Bala model railway has appeared in the August 2016 edition of "Model Rail" magazine, with some excellent creative photography by Chris Nevard.
26th August 2015: Robert Sharp kindly sent me his transcript of the 1911 Census for Poynton & Worth - now added to our "Poynton" page
12th July 2014: Our Bangor area buses spreadsheet is updated to include much new information from Richard Ward, a former college colleague in the 1960s - many thanks, Richard!
For a few days in December 2018, a short section of the canal in Poynton has been drained for repairs, for the first time in living memory. There has long been a rumour that some of the Colliery coal boats were sunk here in the 1920s - this can at last be confirmed! There are at least 4, and possibly 8 or 9 now almost completely sunken into the mud, seen in the photo below - they don't look in very good condition though!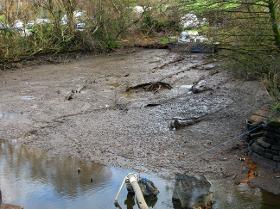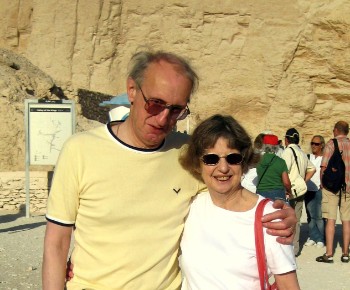 In the Valley of the Kings, Luxor, Egypt, May 2009 at 6.00 in the morning - comfortably cool then!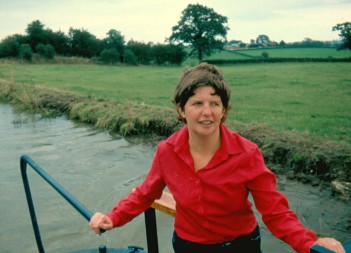 On the Llangollen Canal, 1984, with inevitable tree growing out of head!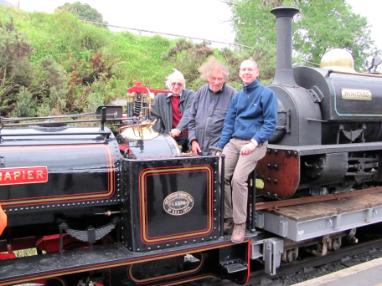 The "Hugh Napier" runs again - 40 years since we started its restoration at Penrhyn Castle, and something I never thought we would see! At Beddgelert station, Welsh Highland Railway, during the "Quarry Power" weekend, September 2012. Left to right: Keith, Ifor, Ian Tate. Behind us the loco "Winifred", recently returned from the USA, in the same condition as when it left Penrhyn Quarry in 1965!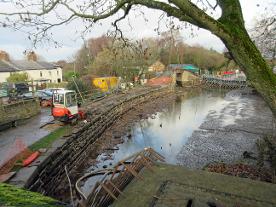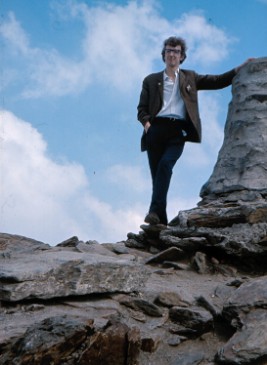 When we had hair! At the summit of Snowdon, July 1967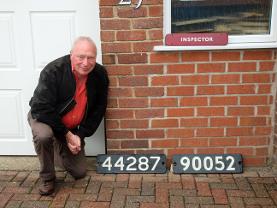 Ian is reunited with his railway relics recentlyafter some 30 years!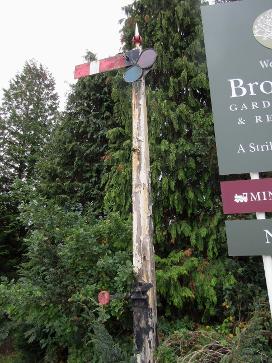 At the recent auction of railway items from Brookside Garden Centre, we had hoped to buy this old and decrepit GWR signal cheaply as spares for our own identical one - however, bidding started at £500 and sold for several hundred more - no idea these things were so sought after these days!